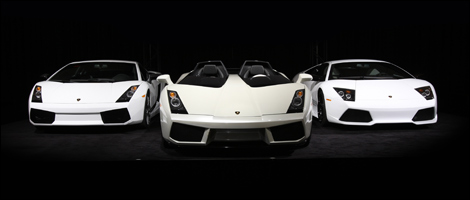 Have a look at this video and Lamborghini's line-up for the Toronto Auto Show. Nice!
On center stage, there sits Lamborghini's fabulous Concept S which is flanked by a Gallardo Superleggera on one side, and a Murciélago LP640 Coupe on the other. All finished in white, really quite stunning!

However, the real stars of the show are the historic models that span the decades and show the true history of the brand.

The Silhouette – A very rare vehicle, one of only 54 ever produced (31 are known to still exist). This Silhouette was first introduced at the 1976 Geneva Auto Show, and although production was limited, it continued through 1979.

The LM 002 – The famous off-road Lambo. One of only 301 produced and 1 of only 2 Canadian editions. Manufactured from 1986 till 1992, it was a popular mode of transportation for many wealthy Arab oil barons. Since it was powered by a V12, they were probably the only ones who could afford the fuel for them!

The Countach 25th Anniversary Special Edition – The instantly recognizable Countach, and possibly the best known of all Lamborghinis.

The Diablo 30th Anniversary Special Edition – A rather special vehicle this, one of only 150 produced and 1 of only 4 in Canada.

Then of course, we have my absolute favorite Lamborghini ever, and the one that I would drive home, if I had the opportunity…

The bright canary-yellow Miura S – Honestly, my mouth dropped open when I first clapped eyes on this beauty. The Miura has been the car of my dreams since I first saw one in the film "The Italian Job". (That's of course the real one with Michael Caine, not the recent pathetic remake which was set in the USA and featured the new Mini Coopers).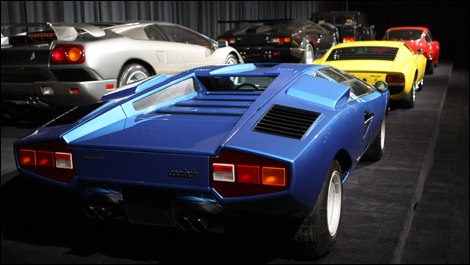 Related news: GermanCarBlog, P4MR, Lamborghini
Source: Auto123