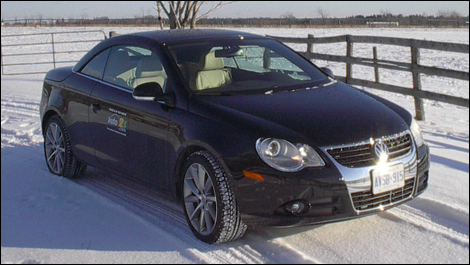 Here's a nice review of the VW Eos 2.0T.

The dashboard layout is pleasing to the eye, the gauges are easy to read, and the controls not only fall readily to hand, but are of the superior quality we have come to expect from the VW group.

The seats are extremely comfortable and are of a design that suits the slightly luxurious, slightly sporty feel of the vehicle. Interior storage space is not exactly outstanding in the EOS, the owners manual takes up more than its fair share of room in the glove box, and the center console is smaller than most. However, large door pockets help to make up for this, and compared to some other convertibles, it is quite good really.

It is hard not to like the interior of the EOS. In fact, I'd say that it is one of the nicest in its class. Mind you, I think that you kind of expect to find a nice interior in a cute little convertible.
Related news: GermanCarBlog, P4MR, VW Eos
Source: Auto123