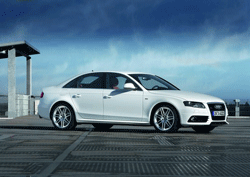 Nice review here of the Audi A4 2.0 TFSI quattro. If they could just spell quattro right …
The Audi A4's technical excellence and front- or all-wheel drive prowess have always been first-rate, but since its inception in 1994, its styling has been on the conservative side. While that has undoubtedly added to its attraction for those people looking for a compact sports-luxury sedan that is different from the common choices, a little more flash, tastefully done, wouldn't hurt at all.

And that is exactly what Audi has done for the next-generation 2009 A4. At a quick glance, it looks like its high-performance cousin the S5. And while it leverages familiar styling cues for continuity, the newest A4 is just a touch larger than its predecessors, for more interior space, re-proportioned for both looks and chassis dynamics, and revised under the skin for improvements in safety and performance.
Related news: GermanCarBlog, P4MR, Audi A4 2.0 TFSI quattro
Source: The Car Connection