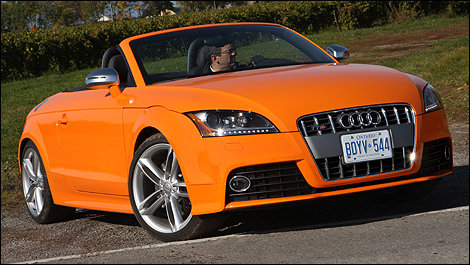 Here are some nice driving impressions of the Audi TTS Roadster.
The idea of popping the 3.2-litre V6 out of the engine bay and stuffing an overboosted 2.0-litre four might sound like a step backwards. However, the smaller engine makes more sense handling-wise, since it's lighter and provides the TT with better weight distribution. As a result, the car is better balanced and understeers less than with the V6.

For S duty, the 4-cylinder gets direct injection and produces 265 horsepower and 258 lb-ft of torque from 2,500 to 5,000 rpm. The only gearbox offered is the 6-speed double-clutch automated unit dubbed S tronic, which suits us fine.

With the new guts, the TTS gets to 100 km/h in 5.4 seconds, which is about a second quicker than the TT 3.2. But Audi tinkered with the exhaust and the car belts out a rather alluring, raspy engine note that backs up its sporty pretensions.

On the track, the car feels extremely capable, as its exhibits very little body roll while it plunges into sharp corners and through the slalom course. The lively steering makes changing directions quickly child's play, and the quattro all-wheel drive system keeps the car in its trajectory, even when we're pushing the TT at its limits. This car is a hoot to drive.
Related news: GermanCarBlog, P4MR, Audi TTS Roadster
Source: Auto123